The champs are here! As we continue our exploration of NBA over/unders and projected records for all 30 NBA teams, we have arrived upon the best division in basketball. The Southwest features four teams that made the playoffs last season, while the fifth team has Anthony Davis, the most electrifying young player in the game. This division is STACKED. Let's get into it.
San Antonio Spurs, 56.5 – OVER, 60-22
56.5 is such a laughably low number for this team. They won 62 games last year, 58 in 2012 and went 50-16 in the lockout shortened season of 2011. The only possible argument here is that they've gotten a year older, except every time that anyone has used that argument, the Spurs have made an adjustment and finessed their way back to the top.
There is no professional sports franchise that I respect more than the Spurs. The way that they think creatively about the game and seek out the best talent no matter the barriers has shown us a new world in terms of what an NBA team can do. They seem to have a pipeline of international talent that compliments their absurd ability to pluck just about any player off the NBA's scrap heap, brush the dust off and have them hitting clutch threes in the playoffs four months later. It's just incredible.
I could write 3,000 words about the Spurs. The respect I have for Duncan, Parker, Ginobili, Kawhi Leonard, Greg Popovich, R.C. Buford, and virtually everyone else who allows them to be this fun, creative juggernaut that I look forward to seeing every year. This year, they take the floor with Becky Hammon as an assistant coach, the first full-time female assistant coach in NBA history. Do I think they care about that distinction? Not at all. I think they probably think the other 29 NBA teams are stupid for under valuing Hammon's potential contribution, though.
Preseason is a world where you have to evaluate all the potential branches of the season, and, if you run a blog like this one, analyze where the most potential branches may lead. The Western Conference is very, very tough – the Thunder and Clippers are sure to be excellent again, and there are literally five other teams that could contend for a title if things break their way in the West. But no matter how I slice it, I see the Spurs as the favorite to win the Western Conference in 2014-15.
Houston Rockets, 49.5 – OVER, 54-28
The Rockets had what some people would call a disastrous offseason, but those people are overreacting. Let's look at what really happened here – they whiffed on Chris Bosh, a move that would have catapulted them into the top tier of title discussion, they allowed Chandler Parsons to walk, they jettisoned Omer Asik (who was basically not on their team last year anyway) and Jeremy Lin. In turn, they signed Trevor Ariza, who fills in a solid amount of Chandler Parsons offensive production while providing signfiicantly better defense, and cleared playing time for Isaiah Canaan.
Personally, I like those trade-offs. The Rockets had zero perimeter defense last season, and Ariza improves that at least slightly. If they have a starting five with Patrick Beverly, James Harden, Ariza, Terence Jones and Dwight Howard? That's not a terrible defensive unit at all. It would be nice if James Harden cared at least .01% on defense, but he's one of the best five offensive players in the league, so it's actually forgivable if he asks the other guys to make up for his mistakes, really.
At the end of the day, my pick on this team is based on their talent. I have concerns about McHale as a coach, but Howard and Harden are elite, and that means something in this league. I hated what they both said about being the "only two players who mattered" on the team in spirit, but there's some truth in the sentiment as well. Chandler Parsons was a very good player the past few seasons, but he wasn't irreplaceable by any stretch of the imagination. I think this team continues to improve and is tough to beat yet again.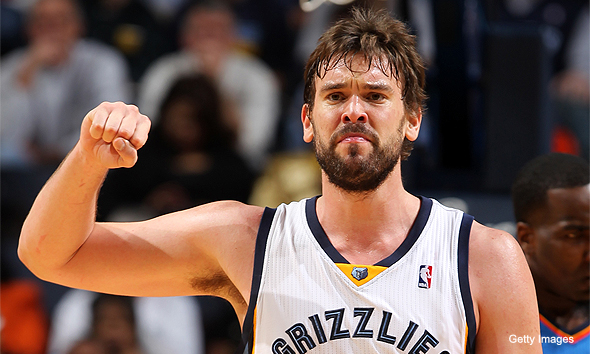 Memphis Grizzlies, 48.5 – OVER, 52-30
This division is freakin' ridiculous. Memphis is so undervalued at 48.5 I don't even know where to begin. In fact, I'm seriously worried I'm undervaluing them at 52! If the mid and bottom-tier Western conference teams aren't as competitive as I think they will be, then the Grizz will blow this number away. Think about this – they won 50 games last year with Marc Gasol missing significant time, Quincy Pondexter missing basically the whole season, and while playing for the first year under a new coach who was clearly getting his footing the first two months. Oh, and they signed Vince Carter, who is one of my favorite role players in the league after his most recent reinvention.
This team is going to be very, very good. Mike Conley is one of the best two-way point guards in the league, and the addition of Jordan Adams to learn under Tony Allen actually makes a lot of sense. If Pondexter and Carter have good shooting seasons, then watch out. They will grit'n'grind their way into almost every game.
Dallas Mavericks, 49.5 – OVER, 50-32
I pick the over and still feel like I'm being disrespectful to Dirk and Rick Carlisle. Hell, even Monta. This team is also going to be very good. How is this one division?
The reason I'm lower on this team than I am on Houston or Memphis is an issue of depth and defense. I don't see any of these three teams being deep enough to be a title contender, but Dallas has a mismatched bench squad full of guys who have never been good enough to get real NBA minutes before and guys who are well past the point of where they should get any real NBA minutes again.
That I could live with, because this starting unit is so strong, but the defense to me is unforgivable. The major improvement they made, slotting Tyson Chandler in at center, doesn't actually impress me all that much. Chandler is not the player he was when he anchored Dallas' championship defense, and honestly, it would probably take a player like that just to get this unit to league average in that category.
Last season they went with the strategy of just trying to outscore everybody – and it worked! They won 49 games! I see them improving on that mark but only slightly, as their main concern was only addressed to an extent.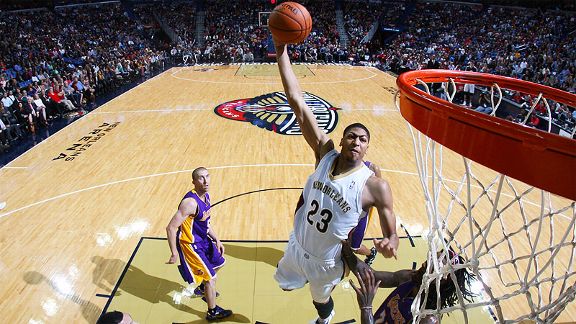 New Orleans Pelicans, 41.5 – UNDER, 37-45
This was one of the easiest calls for me. This Pelicans team has talent, but I don't see that talent fitting together well enough to win more than half of their games yet. Plus, Monty Williams is near the bottom of my NBA coach rankings, and I don't see him finding a way to make this group gel.
But, on to the fun part: This team is going to be crazy to watch!!! Anthony Davis is now paired with Omer Asik, a rim-protecting, paint-patrolling center. This will allow Davis to go full-on nutso gadget arms all over the court on defense. They also should get Jrue Holiday and Ryan Anderson back. Having Anderson will open up all kinds of space on the floor, allowing them to run ~50 Holiday-Davis pick and rolls a game, which is obviously the ideal scenario for this team and every fan anywhere.
I'm excited about this team. I think they could be really, REALLY good in a few years, and that they have the right idea with a Davis-Asik-Holiday core. Even Tyreke Evans might work in there (and he'll have to, since they signed him for like, literally ever). The piece that is really gumming things up right now, besides Monty, is Eric Gordon. His massive contract coupled with the fact that he is basically always injured puts a huge drain on their cap sheet and immediate opportunities. Hopefully they will sort it out while they have this core in place, because that would be something really cool to see.